When Your husband doesn't want sex
January 20, 2017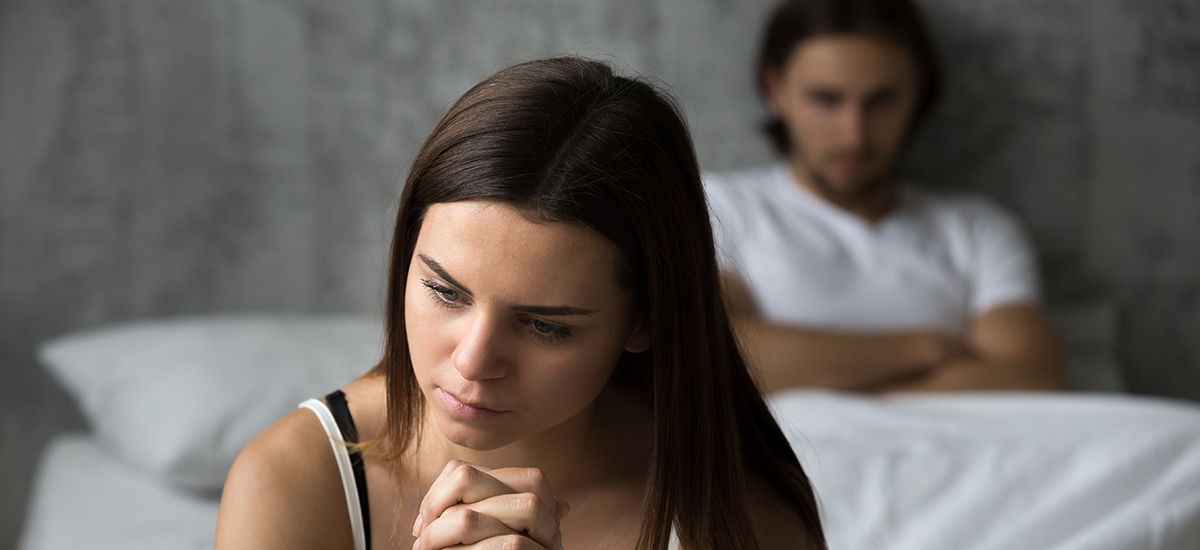 What not having sex is doing to your marriage, part 2
Ok, ladies. You've asked for it and here it is.
We sent out Part 1 of this topic (which focused on women not having sex), and within minutes we started receiving comments from women complaining about their husband doesn't want sex.
So many people wanted to know why I took the slanted approach of wives who are refusing their husbands. Honestly, I took that approach because that is what I have been seeing in my office in droves lately.
But listen, the problem goes both ways, and by the end of the day, it was obvious I was going to have to address this issue from the opposite point of view.
Women who find themselves in a sexless marriage have many of the same frustrations as men.
They feel frustrated, alone, embarrassed and angry.
They also feel insecure.
They wonder if they are sexy enough, attractive enough or thin enough.
What to do When Your Husband Doesn't Want Sex
The Essential Guide for Women
It is confusing to hear female friends complain about husbands who want it all the time and then come back to a home where no one is pursuing her. Our culture feeds the notion that men are hypersexual, so if you are married to a man who isn't all that interested, well…there must be something wrong with the woman.
If you are a woman who want to have sex and whose husband isn't interested in sex, you feel like a freak.
Marriage is a partnership. You enter it voluntarily and there are spoken and unspoken agreements.
One of those agreements is that there will be a sexual relationship. When one partner refuses to participate, it is exceptionally selfish.
A sexless marriage feels so powerless and frustrating.
There just isn't any way around it. Sex is important in a relationship.
It is the one thing that keeps you from just being roommates sharing the same bed.
There are several reasons why a husband doesn't want sex with his wife.
Physical reasons – It's always good to start with a checkup to make sure there isn't something going on physically or hormonally. Low testosterone is fairly common, but I find that raising T levels doesn't always fix the problem. Still, this is the easiest place to start and begin ruling out factors.
Pornography – This is a touchy subject for many people. There are experts out there who will tell you that pornography enhances sex for couples. I strongly disagree. I find porn causes many more sexual problems than any other single item on this list. Porn changes the brain, and not in a good way. Check out www.yourbrainonporn.com to see what I mean. I don't recommend it for either men or women, and I've seen it cause a lot of harm in relationships. You can also check out the posts we have here on porn use. If your husband doesn't want sex it could be because he is using porn. If this is the culprit, the fix is cutting off the porn use cold turkey and retraining his brain to increase his desire for a real person.
The quality of your relationship – I think everyone knows that women need emotional connection to increase physical desire. This same thing can be said for men as well. If a man is feeling criticized or belittled by you, he will shut down sexually. (See also: Help! I don't find my wife attractive). You can't rage at him or tell him he needs to "be a man" and then expect him to want to have sex with you. A man needs to feel better and respected by you. If you are talking down to him, treating him like a child, telling him what to do and when to do it, your sex life will suffer.
Performance Anxiety – Men have a lot of pressure to perform. They cannot fake what they don't feel. Some men are so worried about maintaining an erection or ejaculating prematurely, they shut down and avoid sexual contact altogether. Anxiety is certainly a mood killer. Please don't minimize the impact performance anxiety can have on a man. I worked with a couple where the man had one episode of not being able to maintain his erection. All his wife said was "Well, that was disappointing". He became so worried that he would have a repeat performance that it happened again several times. After three or four failed attempts, he shut down. They couldn't resume a normal sex drive until he dealt with his anxiety. Drugs like Cialis can help but many men are resistant to taking them. The best defense is to deal with the anxiety.
Lack of non-sexual touch – Many women don't believe this one but I see it quite a lot actually. Not every man needs a lot of physical touch like holding hands, hugging and kissing but many of them do. If you are stand-offish and you are constantly thwarting his attempts to be close to you, he will likely pull back sexually as well. When your guy comes up behind you and puts his arms around you, he is risking rejection. If you stiffen or push him away frequently, he feels unwanted and unwelcomed. This carries over into the bedroom as well.
Depression – Men often get depressed and the symptoms go unrecognized. Depression in men often looks like anger and withdrawal. Sexual desire would be one of the casualties of depression for both men and women.
Your attitude about sex – You may not ever openly reject your husband's advances but if your attitude is "get this over with quickly" you are certainly dousing the mood. For a woman to have good sex, it requires skill on her lover's part. For a man to have good sex, it requires an eager partner who is obviously enjoying herself. I have heard many men tell me they would rather masturbate than have sex with a woman who just lies there.
He is having an affair. I can't count the number of times I have had a couple in my office where the man doesn't want to have sex with his wife but comes to therapy to work on the relationship and it comes out later that he is having an affair. This disinterest in sex is usually accompanied by a general disinterest in being together at all. He may say he is working on things, but if he remains very detached and disinterested it is certainly a factor I would consider.
If your husband doesn't want sex, it is time to find out what is going on.
Too many people keep ignoring this situation and hoping things will get better on their own. Sometimes they do but if things have been going this way for months or years, stop waiting and start pressing for some answers.
If you ask your husband why he doesn't want sex, he is almost certainly going to tell you he doesn't know. And that may very well be the truth.
He may have no idea why he doesn't want sex.
He may not be able to make the connection between how he feels and his libido. He just knows he doesn't want it as often as you do.
So your conversation needs to go something like this:
"Honey, we aren't having sex enough for me to feel like I'm getting what I need and want from this relationship. This is really a problem for me. It is very important to me that we get to the bottom of what is going on. I'd like for you to make a doctor's appointment for a physical checkup and if everything is normal there, I will make an appointment for us to see someone who specializes in this area. I know this may make you uncomfortable, but I love you and our life together too much to just let this go any longer. I'm building up some serious resentment and I'm afraid if we don't tackle this problem together, I will continue to detach and continue to feel hurt and rejected."
If he refuses to talk to anyone with you, let him know you will be going alone. If you are at the point where you are considering leaving the marriage, I would respectfully let him know you are disappointed in his decision to avoid the subject and you aren't sure what this means for the future of your relationship. You aren't giving idle threats. You are just being honest and letting him know this is serious.
Then the most important part is to FOLLOW THROUGH. Make an appointment with someone who is comfortable and knowledgeable to talk to you about sexual problems.
A lot of the therapy work I do is helping couples and partners understand what their contributions to the relationship are, and how they can start making changes for the better, specifically with communication. Specifically, when communicating with your spouse, it's important to make sure that you are not part of the problem, but part of the solution.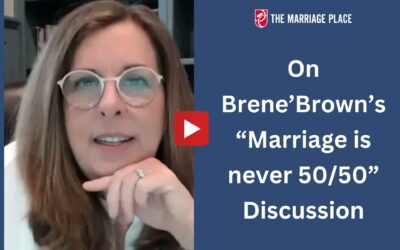 I bet many of you have already seen the recent Brene' Brown video making the rounds where she calls out the myth of marriage being a 50/50 partnership.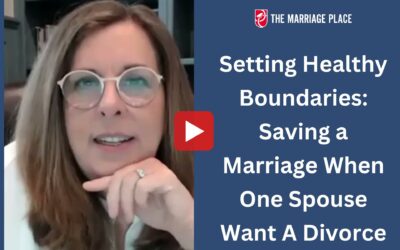 I get asked a lot how to save a marriage when one spouse is leaning out or is contemplating divorce. Everybody's situation's different, but what I'm seeing a lot lately is very concerning to me.