New Year, New Focus
January 9, 2020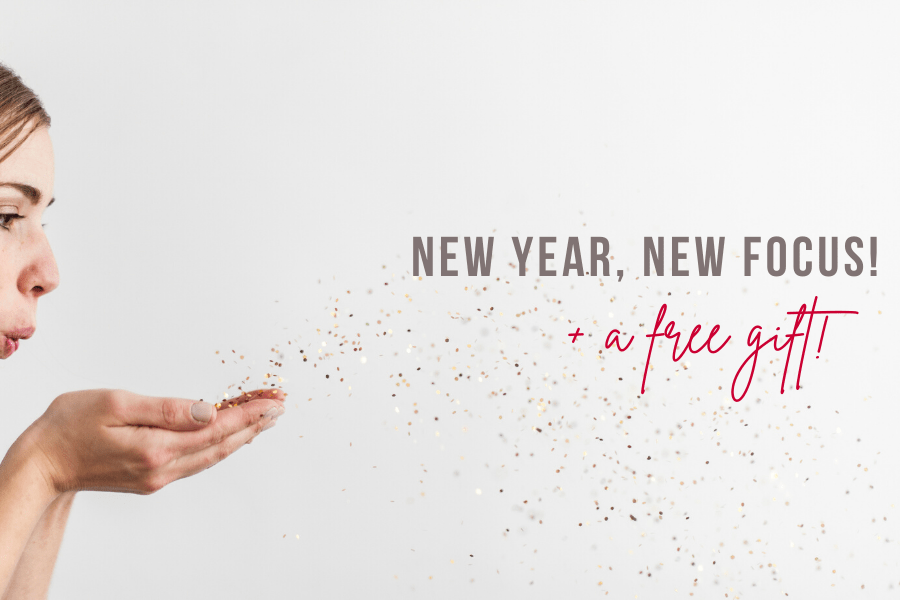 How long is your New Year's Resolution list?
Confession time. I'm not a big fan of New Year's resolutions because they have never really worked for me. For instance, the last time I resolved to cut out sugar and commit to exercising every day, I did so successfully for 2 whole weeks. 2!  Another time I set an intention to declutter my entire house but never made it past the hall closet. New Year's resolutions always made me feel better for a short time, but the disappointment of failure was brutal for my emotional health. Given that history, about 10 years ago I decided to just boycott New Year's resolutions and honestly, the decision felt good. I might have missed the high of that first jolt of motivation, but it was a huge relief to avoid the disappointment of letting myself down each time my resolution failed. Even so, I quickly realized avoiding resolutions to improve or change was not the answer either. Socrates said, "An unexamined life is not worth living". For me, an unexamined life leads to unhealthy choices and habits that make living pretty miserable because what I want is usually not what I need.
Getting in our own way
The human condition insists that what we need is not often what we want, and we are always fighting the battle for self-discipline. None of us intends to wreck our physical health with weight gain and not enough exercise, but it's easy to get lazy and indulge in things that feel good to us, but really aren't. Our best intentions are defeated by choices that lead to bad habits born from self-indulgence. It starts innocently enough. We take a few days off our routine or forget about moderation, and those days become weeks and months and years of bad habits. Then we wake up and realize the consequences for those choices are hurting us, but it's difficult to believe we are capable of making meaningful change. And the hopelessness sets in.
This principle holds true for our marriages also. We stop doing the things that improve connection with our partner because we get lazy, tired or distracted.  For many years I took my marriage for granted because it was solid and easy and I made the mistake of thinking it was good enough to withstand neglect. I stopped putting in the work that made it strong and put those efforts into other things…kids, a career and some self-absorption. By the time I realized my marriage was in trouble, the damage felt too big and too hard to fix. Relationships can feel like a tangled mess, but I promise you, no matter how messy it seems, you can make big improvements with consistent, focused efforts on one thing at a time. You didn't get where you are because of one decision or moment, and you won't get out of it that quickly either.
My gift to you
Personal growth and change is hard but it begins with self-reflection. Today, I'm thrilled to share something I've prepared to help you examine your marriage and get a clear picture of what is working and what isn't. If you are in a tough marriage, I want to help you wake up and figure out how to fix it. If your marriage is in a good place, I want to make sure you stay awake and focus on keeping it strong.
Let me introduce you to my new workbook, for getting a new perspective on your marriage. I'm giving you this gift for free because you are part of our tribe and we love our tribe!  You are the most supportive people on the planet and you have graciously allowed us into your homes and marriages. Your marriage is our passion and we want to help you build a satisfying relationship that will bring you years of love, security and connection.
More big news
And guess what? I have more resources coming your way!
The Marriage Place will soon be launching a new membership site! I've been planning this for more than a year and I'm so freaking excited to see it come to life. I believe it is the perfect avenue for me to continue to help you stay focused on your marriage for the months and years to come. You can find more information about the new membership site in the Marriage Review workbook and can get on our waitlist to be the first to know when it launches.
Final thoughts
Most couples think to turn to counseling or coaching when they are unhappy in their relationship. And truthfully, I don't believe anything replaces the kind of dedicated effort and personalized work a marriage expert can help you accomplish when your relationship is in a particularly tough season. But what happens when that work is finished? Statistically, most couples stop checking in with their therapist and with each other. Bad habits start creeping in yet again and before you know it, you are back in a rut.
Don't let this be you!
Call us! My team of therapists and coaches are here to support you. I'm also excited that the new membership site will be yet another way for us to stay connected and for you to receive the ongoing support you need to keep your marriage thriving. Until then, I hope you enjoy your free gift and I wish you and yours a wonderful new year.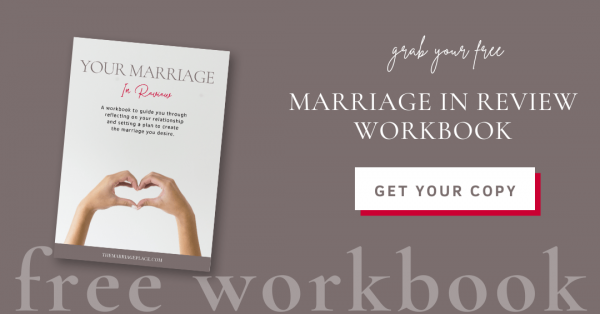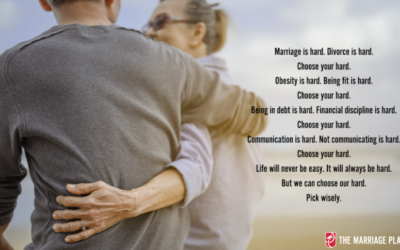 Marriage is Hard November 17, 2020Choose your hard Choose your hard. Yes!  I just love this post for so many reasons. As human beings we are wired to take the path of least resistance, even if that path doesn't take us where we ultimately want to be. It is easy...